Assign a DNS server
   
HostGame.ro provides free DNS domain.fhg.ro or domain.hostgame.ro form. Setting DNS host activation is automatic and it can be changed whenever needed in the service management page by accessing: My Account, then left Manage Services - Mange/Details- Change hostname (DNS-site is written in lowercase). To save the change, press the blue button.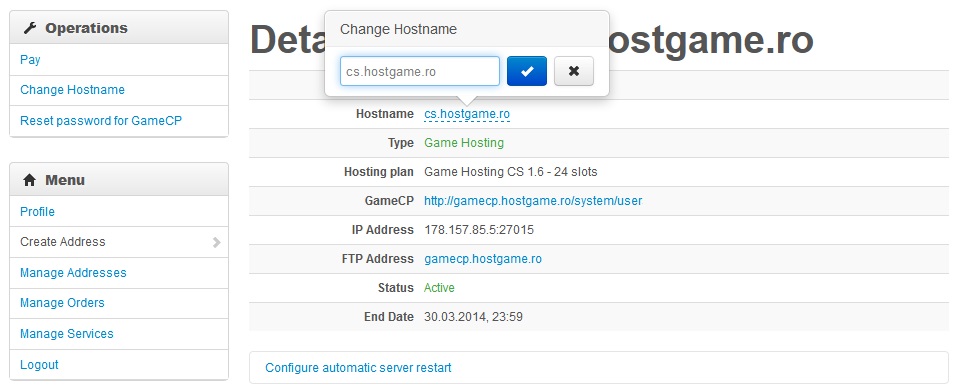 How do I connect to the server name?
Installing a DNS server cs, SAMP, CSGO, L4D2
How to make a DNS server CS, SAMP, CSGO, L4D2
How do I change my DNS
How do dns server address in the field cs
Create DNS IP port (server cs)

How do I connect to the server name?

For players to connect to a server must write in console game server's IP or name it. It is much easier for players to remember than IP server name.

How do I connect to the server name?
If the port is public (: 27015) connect it directly Ex: cs.nume.ro
If the port is private (: 28015) connection is adding port Ex: cs.nume.ro: 28015

It is not enough to write in GameCP name you choose must and assign a DNS server at IP. (How do I change the server name in GameCP?)
What is DNS - Domain Name System - Domain Name System - is a system for storing and querying data, used to translate domain names into IP addresses and vice versa.

To assign another DNS server that you have in administration, than those offered free HostGame.r a need to own a web host (Hosting Areas).

HostGame.ro has the lowest prices to the quality insured, which supports interactive web gamers. Prices for domain hosting (web host) start at 1 euro + VAT.

After logging into cPanel, enter the Simple DNS Zone Editor
In Add a Record :
Name: cs (we write the remaining code (field) is populated with the domain name that you do cs.hostgame.ro DNS for example, but it can go GG., Surf., SAMP, CSGO, L4D2, so.)
Adress: Ip-ul server (eg: 178.157.85.157)

Model:

Name: cs.hostgame.ro
Adress:178.157.85.157
and click on the Add a record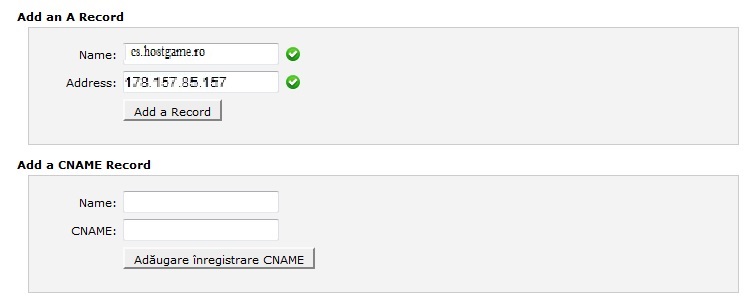 And you say your opinion!